HD Cut
Save

Liquid error (product-badge line 32): -Infinity

%
HD Cut + is a nano abrasive for paint correction that is lubricated well enough to get out the toughest scratches in clear coats and single stage paints.  Use it with a wool pad or foam pad. It's designed for the detailer to help you have  a clean, easy, quick correction of paint. HD Cut+  is designed to be able to remove scratches that are in the finish.  A normal polish, wax or fillers won't be able to take care of deeper scratches.  HD Cut+ is abrasive enough for heavy scratches, but still will set up the second step with HD Polish+ to make sure you finish bright and extremely clean.  HD CUT+ corrects with wool pads or foam pads.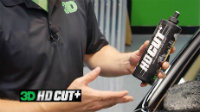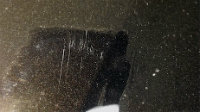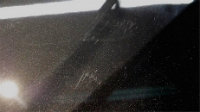 Put only five dime size drops on the pad, massage it in.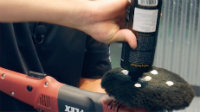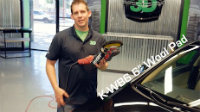 Put your rpm to about 1,200 rpm you don't really need to go any faster.  Use back and forth motions to gently remove any of the scratches. If you like to use the pad flat - go for it!  if you like to come up on edge little bit do it as well.  That's all user preference.  Just make sure you overlap passes.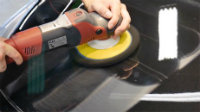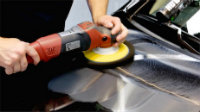 There is no dust. There is no buildup.  There's not a lot of extra clean up. The sling is very minimal; if any.  Now that we have removed all the scratches with the wool pad you'll notice there's actually kind of a hologram effect that's left behind; which is normal; which is what you expect to have after using a wool pad and a compound.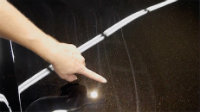 If you want to reduce this effect you can try and cut with a foam pad, a heavy cutting foam pad that we also have with 3D Products. Foam is not as efficient as wool and foam pads heat up quite a bit more than a wool pad does. You notice also with the wool pad that we're using, the lent isn't and all over the place which is kind of the problem that wool pads and the reputation that old wool pads used to have.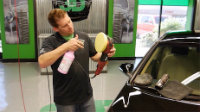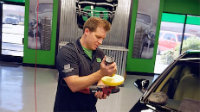 Even if we do use a lambswool pad to set up for the nicest finish for your HD polish +  You take cutting pad and level out quickly some of the whip marks that are left behind.  Before you start, condition your pad using 3D FINAL TOUCH. It's just a couple quick sprays,  just to lightly condition the pad so it's damp. Then you take and apply your HD Cut+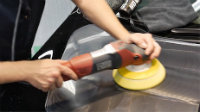 Always try to work top to bottom,  working from the inside out.  That way you're not leaning over your finished product.  Massage it into the surface, avoid a little bit more sling so you keep your  your work a little bit cleaner. Turn the pad down to about 1000 rpms.
Be careful with your contours, you don't want to burn the paint.  Apply a little bit more final touch go ahead and remove any of the compound  that's left over.  now we have gone through and cut out all of the deep scratches that were in the hood with a wool pad.  You are now set up for HD POLISH+ to be that will be able to level out quickly any of these holograms.  We are left with the darkest deepest shine that you can really ask for in your paint.  Some people just use the HD Cut+ without polish.
HD CUT+ can be followed by HD POLISH+ to produce a flawless, deep & swirl free finish. 100% Body Shop safe and contains no wax, silicone or fillers.